Cherry Potter, MA, M.Inst.GA, UKCP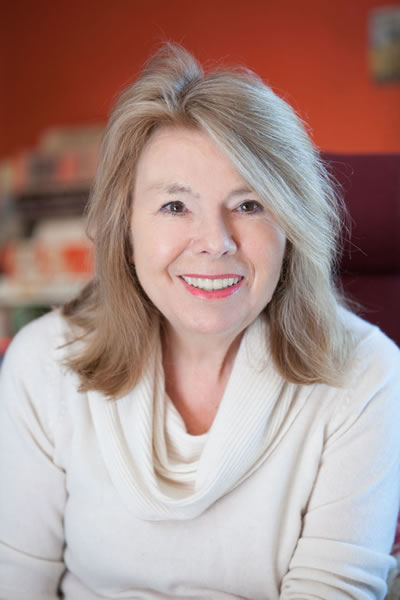 For the first part of my career I was a writer and teacher of film and creative writing.  Like many writers I was particularly interested in how our individual stories are influenced first by our family of origin and later by all the relationships we form in our personal, social and working lives. This deep interest in human psychology together with my love of working face-to-face with people is why I decided to train as a psychotherapist.
I have been seeing clients at my private practice in Brighton Kemptown for the past 15 years. Many of my clients choose to see me for one to one psychodynamic psychotherapy or counselling.  I also have a special interest in helping couples.  And I particularly enjoy working with my weekly long-term psychotherapy group.
I work with clients with a range of problems
My clients come to see me for many different reasons, such as:
relationship problems
sexual problems
family issues
anxiety
depression
stress
self-esteem
problems with work relationships and office politics
managing difficult emotions
sexual or domestic abuse
deep seated fears
bereavement
loss of meaning
difficulty with creativity or writer's block
I no longer run creative writing groups, but I occasionally see clients who are struggling with writer's block or problems with their creativity.  Please get in touch if you would like some help in this area.
If you would like to know more about my professional writing career, books, articles or journalism, please visit my personal website.
Your therapy
To begin with, I usually arrange for a brief telephone consultation to enable us to talk about why you are considering one to one therapy, couples therapy or group therapy. This will also give you a chance to ask any questions you may have before you decide whether you would like to book an initial assessment session. We will also discuss my fees, which vary depending on what kind of therapy you are thinking about.
The aim of your initial assessment session is to talk in more depth about your current problems and your personal history, and for us to think about which kind of therapy may be best for you. This session will also give you a chance to meet me and for us both to decide whether I am the right therapist for you.
My Fees
My fee for your initial consultation is £40.  Part of this consultation will include a discussion about your particular circumstances and costs of therapy.
My fees for individual psychotherapy is usually between £50 – £65 per 50 minute session depending on your income range.  For clients who don't currently have employment I offer a reduced fee of £40 per session.
I usually charge £60 – £70 per 60 minute session for couples therapy depending on income.
Fees for group therapy are currently £20 – £25 per weekly 90 minute group session depending on income.
My Practice
My consulting room is in Egremont Place, Brighton BN2 0GB, which is within easy walking distance from the centre of Brighton and well served by buses to Kemptown. There is also parking nearby in Queens Park.
Find Out More
If you think you need help but you are not sure which therapy will be best for you please contact me for more information, or to arrange for an initial one to one session to talk things through. You can call me on the number listed on this website. Alternatively, send me a message by filling out the form on the Contact Us page I will get back in touch with you as soon as possible.
My training and qualifications
I worked as an honorary psychotherapist for four years at the Chelsea and Westminster hospital in London. I have a Post-Graduate Diploma in Group-Analytic Psychotherapy and I am a Member of the Institute of Group Analysis . I have CPD certification for Working with Couples from the Tavistock Clinic in London.  I am also registered with the UK Council for Psychotherapy.
Other Professional Activities
2006 guest speaker at the Institute of Psychiatry Maudsley Debate.
2008 keynote speaker for the IGA workshop series 'Talking about Sex'.
2009 IGA Series Convenor: 'Dark Forces: Understanding Destructiveness and Transformation', exploring the origins of destructiveness in childhood and the family and its manifestations in many aspects of adult life.
2010 IGA Series Convenor: 'Forces of Change: Resistance and Fear or Hope for Renewal?', exploring our desire for change and our deep need for the familiar however unhappy it makes us. I was also the keynote speaker for the Forces of Change workshop on 'Gender and Sexuality'.
2011 Member of the Group Analytic Society Scientific Committee for the European Symposium 'Cultures, Conflict, and Creativity'.
2014 Delegate Group Analytic Society European Symposium Lisbon 'Art meets Science'
Code of Ethics
I am fully insured and abide by the codes of ethics and practice of my professional associations: the United Kingdom Council for Psychotherapy (UKCP) and the Institute of Group Analysis (IGA).